Main Tour
5 ZIPLINES, VIEWING DECKS, MODERATE TRAIL HIKING, 3 HOURS
NOW OPEN!
An awe inspiring journey that allows you to soar high above the trees and experience one of the most spectacular zipline courses in the world! The ultimate zipline tour experience - providing the opportunity to zip from the summit of the mountain back to the village. Featuring 5 distinct and spectacular ziplines that total almost 4km in length - prepare to be amazed!
By experiencing the complete set of ziplines, guests will travel the full extent of the mountain and enjoy remarkable scenery from various select vantage points. An entertaining combination of aerial adventure and ecological exploration, this tour will leave guests feeling exhilarated and inspired. Ziptrek is the perfect outdoor experience!
Have a look at this video, providing a great overview by one of our staff:
More Videos - Check out some more great Ziptrek video content. 50+ Fun & Adventure + Fall Zipping + Family Fun to give you some additional perspective of this amazing experience!
Family Package - Don't miss our great offer for families. For those groups that qualify, an opportunity to have an amazing experience together and save! See our Current Offers page for more details.
TOP COVID FRIENDLY MEASURES
We have implemented a series of measures to ensure the safety of you and your companions while on tour. Here is just a highlight list of what you can expect to find: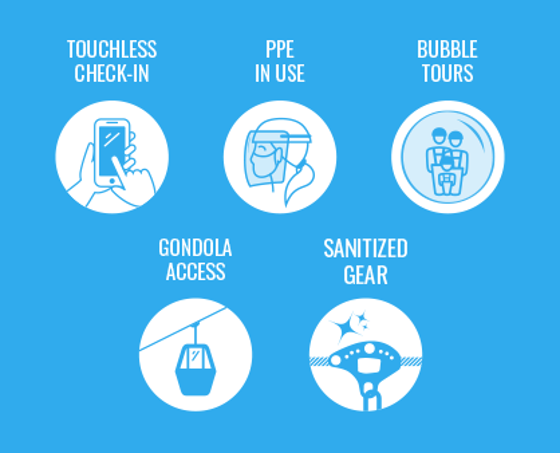 Touchless Check-in Process - Book & sign your waiver online. PPE Use - Both guides and guests will have designated face masks in use. Bubble Tours - Travel with your defined group. Gondola Access - Transport in dedicated and sanitized cabins. Sanitized Gear - Full cleaning measures in place, ensuring single guest use per day.
Visit our dedicated Covid 19 page for full details on what to expect when visiting Ziptrek Tremblant, including a helpful video.