Have you ever wondered who is helping create all the amazing content you see on the Ziptrek Tremblant social media accounts? Meet our ambassador team, a group of creative individuals with a love for the outdoors!
Maude Matte - Senior Guide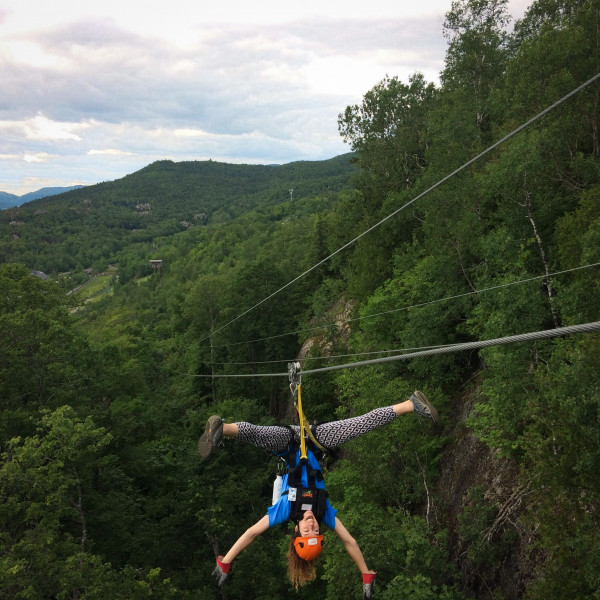 Originally from Mont-Laurier, I've lived in the beautiful city of Quebec for the duration of my studies, then a few years in Perth, Australia to quench my thirst for adventure. Tremblant was a good way for me to get closer to my family after 2 years abroad. In the spring of 2018, I promised myself to do Ziptrek when I was back from a few months in Europe ... Until I noticed the job offer on Facebook, the rest is history.
What I love most about my job is enjoying the great outdoors and meeting all kinds of people from different backgrounds, from all over the world (usually). It makes me feel like I'm traveling while working full time.
My favorite hobbies are photography, gardening, writing and reading. I actually started to love reading when I discovered Harry Potter and the Philosopher's Stone in 2001. I have 135 plants / veg / herb plants at home and I really enjoy vacuuming.
Have you ever started petting a really fluffy dog and just gotten very overwhelmed by how fluffy this dog is?
I have indeed been overwhelmed by how fluffy dogs are. More times than I can remember to count, but to be honest, I tend to get very easily overwhelmed by how cute / fluffy / good dogos are ! I could pet fluffy pooches all day. Every day.
Merlin Lavoie-D'Or - Senior Guide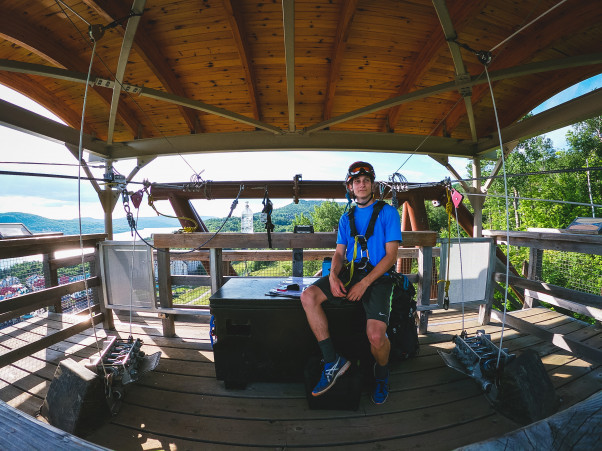 Where are you from? I'm from La Minerve, a small village located 30 minutes north of Tremblant. It's small, but many people know it!
How long have you lived in Tremblant? I moved to Tremblant 5 years ago. I moved there to be closer to my high school.
What brought you to Ziptrek? A friend recommended that I apply for a Guide position at Ziptrek. Since the role involved being outside and ziplining, I didn't ask any more questions and I applied!
What do you love most about being a guide at Ziptrek Tremblant? I love being outside and moving all the time! I obviously like zipping, as well as chatting with guests. What I really appreciate about Ziptrek is the constant renewal in tasks, teammates and guests.
What are your favorite activities / hobbies? I really enjoy reading, writing and drawing. I also do mountain biking, downhill skiing, kickboxing and I am trying to get my black belt in ITF Taekwon-Do. I also love to travel. I'm studying Cinema right now and I really enjoy that universe.
Who would you like to star in a movie about your life Tom Cruise, Danny Devito or Adam Sandler? I am often criticized for this since I study cinema, but I do not know the actors well. After a short Google search, I can tell you that Danny Devito definitely doesn't have enough hair and that Adam Sandler is too much of a comedian. That leaves Tom Cruise, who is rather badass so that's fine with me!
Other funny facts?
I am the only Guide equipped with ski goggles on his helmet!
I have an acceptable level of Spanish which allows me to converse with you if you are Spanish speaking!
Also, I love spending my day on the last platform of the course and playing the accordion there!
Catherine Houle - Guide
Where are you from? Ottawa
How long have you lived in Tremblant? My college classes were online all last year due to Covid so I moved here in November 2020 to work in the mountains while doing my studies remotely.
What brought you to Ziptrek? I'm a bit of an adrenaline junkie and thrill seeker so when I heard the people at Tremblant talk about Ziptrek, I knew it would be a perfect opportunity for me.
What do you love most about being a guide at Ziptrek Tremblant? The team is amazing and I have the opportunity to work outside every day!
What are your favorite activities / hobbies? I love to travel, read and outdoor activities like camping, hiking, surfing and snowboarding.
What animal would make the best kind of president when the animal kingdom rises up and takes control? I believe that wolves would make good leaders! They are excellent communicators and they work well as a team. They are also scary enough to earn the respect of the rest of the animal kingdom.
Other funny facts?
One of my trademark items are my yellow Crocs.
I collect license plates.
I have over 100 sweatshirts.
Taïga Tinkler - Lead Guide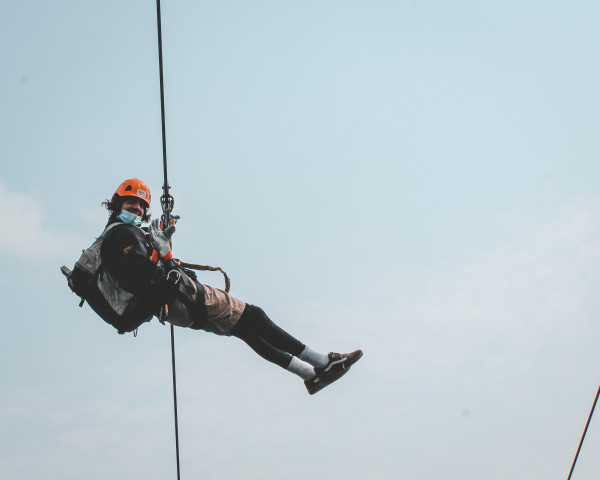 Where are you from? Mont-Laurier
How long have you lived in Tremblant? Since the age of 4.
What brought you to Ziptrek? The desire to have a job that I love - I love the forest, the mountains, the adrenaline, working at height, and Ziptrek is a beautiful mix of all of that.
What are your favorite activities / hobbies? Skateboarding, skiing, rock climbing and whitewater kayaking.
What do you love most about being a guide at Ziptrek Tremblant? The guests.
Other funny facts? I eat way too many Mr. Freeze!